Home

Tom Wilkinson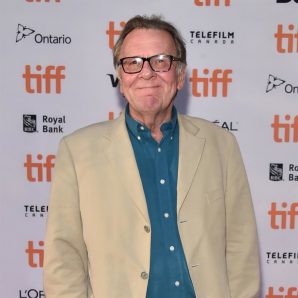 Tom Wilkinson
Thomas Geoffrey "Tom" Wilkinson (Wharfedale, 5 febbraio 1948) è un attore britannico.
Ha ricevuto due candidature ai Premi Oscar; come miglior attore protagonista per In the Bedroom e come miglior attore non protagonista per Michael Clayton. Ha invece vinto un Golden Globe, un Premio BAFTA e un Premio Emmy.
Nato in Gran Bretagna come Thomas Jeffrey Wilkinson, passa alcuni anni della giovinezza in Canada, dove la famiglia si trasferisce per problemi economici. Tornato nella madrepatria, comincia ad interessarsi alla recitazione: si laurea in letteratura inglese e americana all'Università del Kent di Canterbury ed entra in seguito nella Royal Academy of Dramatic Art di Londra. Suo padre morì quando aveva 16 anni.
Debutta sul grande schermo nel 1976, dopo alcune esperienze teatrali, diretto da Andrzej Wajda. Molto attivo nella TV britannica dove gira film di successo per il piccolo schermo, trova la sua consacrazione a livello mondiale solo nel 1997, con il divertente Full Monty – Squattrinati organizzati di Peter Cattaneo, dove interpreta uno degli improbabili e improvvisati spogliarellisti.
Nell'ultimo decennio è presente in molte pellicole, spesso in ruoli anche marginali: aria vagamente svampita e naïf, volto simpatico dal sorriso burlesco, è un attore che ben si adatta sia alle commedie (anche in costume) sia a film maggiormente impegnati. Tra i successi di questi anni che lo vedono presente nel cast ricordiamo il ruolo del farmacista-attore in Shakespeare in Love (1998), Il patriota (2000), In the Bedroom (2002, prima candidatura al premio Oscar come miglior attore protagonista), La ragazza con l'orecchino di perla (2004), The Exorcism of Emily Rose (2005).
Notevole interpretazione quella nel ruolo dell'avvocato Arthur, co-protagonista assieme a George Clooney (e a volte rubandogli perfino la scena) nel thriller giudiziario Michael Clayton, che gli vale nel 2008 la seconda nomination agli Oscar (stavolta come miglior attore non protagonista). Nel 2010 ha recitato nel film Il debito.
La scheda su Wikipedia
(Visited 10 times, 1 visits today)
Videos