Home

Jackie Earle Haley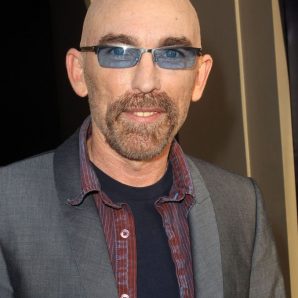 Jackie Earle Haley
Jackie Earle Haley (Los Angeles, 14 luglio 1961) è un attore statunitense, candidato all'Oscar nel 2006 per il film Little Children. Precedentemente era già noto per aver interpretato Kelly Leak, il giocatore di baseball motociclista e fumatore, in Che botte se incontri gli orsi e nei suoi sequel.
Nato a Northridge (California) nel 1961, Jackie Earle Haley comincia la sua carriera cinematografica come attore bambino. Il ruolo più rilevante è quello di Kelly Leak in Che botte se incontri gli "Orsi" (The Bad News Bears, 1976), con Walter Matthau e Tatum O'Neal, film che produsse ben due sequel.
Haley è quindi apparso in numerosi film, tra cui L'ultima odissea, Il giorno della locusta e Un week-end da leone – Una gita da sballo, così come in ruoli da ospite in Tv. Ha interpretato "Moocher" nell'acclamato film del 1979 All American Boys ed in seguito nella serie televisiva di breve durata con lo stesso nome. Nel corso degli anni settanta, ha spesso interpretato personaggi duri, arrabbiati, foruncolosi e dai capelli lunghi tagliati male. È inoltre apparso come ospite in alcuni show televisivi come Marcus Welby, Una famiglia americana, Love Boat, Renegade e Get a Life.
Mentre durante gli anni novanta e l'inizio dei 2000 la carriera d'attore di Haley si è fermata, nello stesso periodo ha iniziato a guidare limousine e a consegnare pizza per guadagnare uno stipendio prima di ritornare sulla scena. Alla fine tornò a fare con successo il produttore e il regista di pubblicità televisive. Ha ricominciato a recitare solo nel 2006, apparendo nel film Tutti gli uomini del re e con una grande performance nel film del 2006 Little Children nei panni di uno stupratore che ha lasciato la critica stupefatta. Quest'ultimo ruolo è stato influenzato dalla relazione tra suo fratello Tru, che è morto a causa di un'overdose di eroina, e la loro madre. È stato nominato per l'Oscar come Miglior Attore non Protagonista per questa interpretazione e nel 2007 è stato invitato ad unirsi alla Academy of Motion Picture Arts and Sciences.
Haley possiede una società di produzione, la JEH Productions, a San Antonio, in Texas.
Ha partecipato alle pellicole Semi-Pro e Winged Creatures. È stato scelto dal regista Zack Snyder per interpretare il vigilante mascherato Rorschach in Watchmen (2009), adattamento cinematografico dell'omonimo graphic novel di Alan Moore.
Nell'aprile 2010 è stato scritturato per interpretare la nuova figura dell'assassino Freddy Krueger nel riavvio della saga Nightmare, prendendo così il ruolo appartenuto a Robert Englund per otto film e una serie TV, in un progetto della New Line previsto per il 2010. Per questo suo ruolo, grande è la prova in quanto si troverà a mettersi nei panni di un cattivo molto particolare e decisamente un'icona del genere dell'orrore.
Sempre nel 2010 è parte del cast di Human Target, interpretando Guerrero, un killer senza scrupoli che offre i propri servizi al protagonista Christopher Chance.
La scheda su Wikipedia
(Visited 9 times, 1 visits today)
Videos